the bayshore project
South Tampa Youth Running Club
THANKSGIVING WEEK PRACTICE SCHEDULE . SEE STACK TEAM APP FOR DETAILS
SATURDAY 11/18 – NO PRACTICE
MONDAY 11/20 – 5PM TRACK WORKOUT AT COLEMAN MIDDLE SCHOOL TRACK
THURSDAY 11/23 – TEAM RACE. YMCA TURKEY GOBBLE 5K. NO EVENING PRACTICE
SATURDAY 11/25 – 8AM PRACTICE AT GADSDEN PARK
The primary goal of The Bayshore Project is to create and foster a community of middle school distance runners in South Tampa that will promote fun and fitness while developing a child's character and discipline and providing opportunities to develop friendships and run competitively.
The Bayshore Project is open to anyone in 5th through 8th grade regardless of school affiliation or ability level. Our program is all about developing healthy habits, self-confidence, and fitness. The program is ideal for athletes looking to prepare for cross country, cross-train for another sport, or begin running for the first time. Endurance makes every athlete better!
We train year round in three separate seasons: Spring Track, Summer Conditioning, and Fall Cross-Country "XC". We participate as a team in a number of local races during the track and cross country seasons. Our summer focus is not on competition, but to demonstrate how running can be part of a lifelong healthy lifestyle. Grab your water bottle and come join us for a practice!
"I don't run to add days to my life, I run to add life to my days." – Ronald Rook
Running Seasons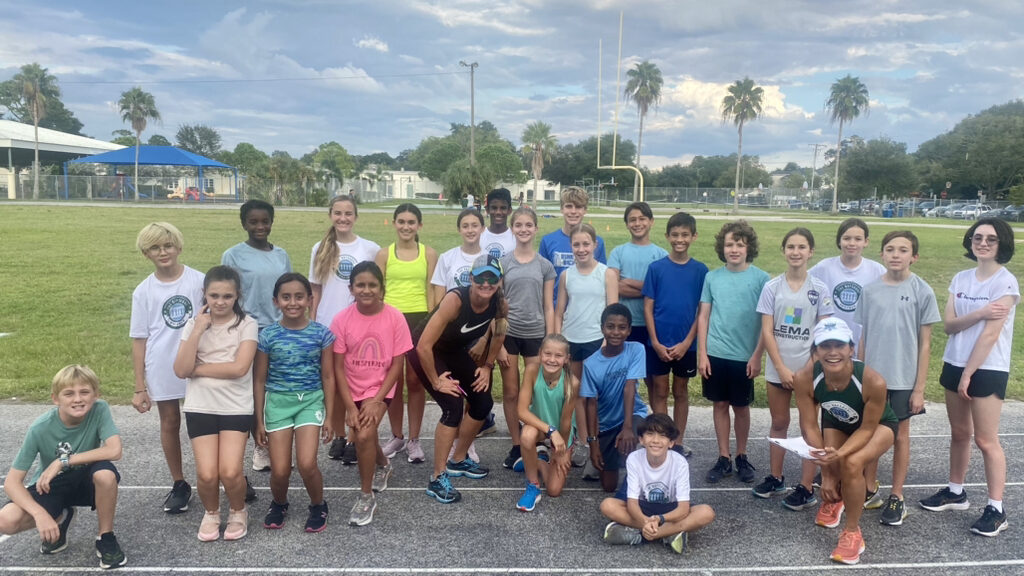 Spring Track
For Bayshore Project members, track season is a way to work on speed and lay a foundation for fall cross country. As such, we do not train for the shortest track events (100M, 200M). Bayshore Project runners compete in one or more of the following races: 400M, 800M, 1500M and 3000M. Spring season practices begin the first week of January with meets scheduled between the last week of February and the second week of May. We ask that all BP runners participate in at least two of our team's scheduled meets.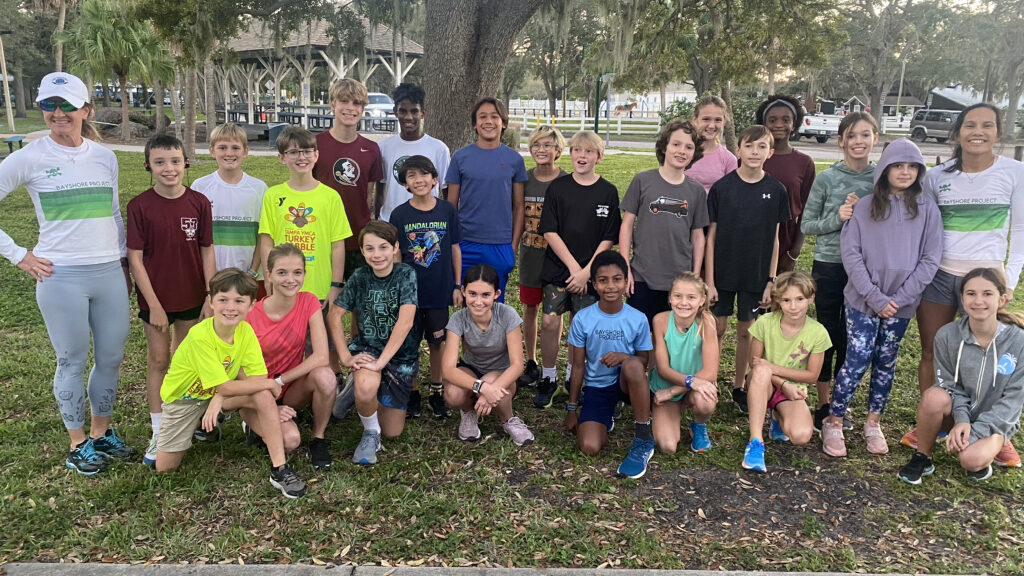 Summer conditioning
Bayshore Project runners do the important work of creating a base of mileage over the summer to prepare for the fall cross country season. The summer running will consist of longer, steady-paced running and will not include any speed work. While some Bayshore Project runners may participate in races over the summer, we do not participate in any competitions as a team over the summer. Summer conditioning begins the first week of June and runs through the second week of August.
Fall Cross Country
Bayshore Project runners compete in 3k races through the XC season as a middle school club team. The workouts progress from steady-paced running to also include track work to improve speed as we move into the later portions of the season with the goal for the runners' performances to peak for the state meet. We expect to run in 6-8 races beginning the end of August and concluding at Florida's Middle School State Cross Country meet at the end of October. Races will be held in Tampa and at other locations in Central Florida. The team will begin practicing in the third week of August. We ask that all BP runners participate in at least two our team's scheduled races.
"In running, it doesn't matter whether you come in first, in the middle of the pack, or last. You can say, 'I have finished.' There is a lot of satisfaction in that." — Fred Lebow, New York City Marathon co-founder